March 1, 2017 - Serverless London User Group Meetup

A varied meetup covering the business case for Serverless, some lessons in Operations for Serverless, and a great demo of a multi-cloud serverless application using Machine Learning.
Talks
Serverless for Interoperability - Eduardo Aguilar Pelaez
Great first up talk by Eduardo from Onefinestay. Going through the technical and business benefits of adopting a Serverless approach by abstracting away internal API's and removing internal bottlenecks to allow the mobile team to progress unhindered.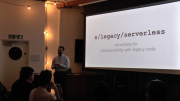 Serverless Operations is not a Solved Problem - Chris Swan
With serverless abstracting away a lot of server maintenance, it's easy to think operations goes away. Chris Swan, CTO for Global Operations at CSC, focused on the basics of operations; provisioning, configuration, monitoring and logging; that are still applicable in a serverless world.