February 1, 2017 - Serverless London User Group Meetup

The first Serverless London User Group meet up of the year was held at Onefinestay's offices in Angel, with James Thomas, Dave Blooman & Rafal Gancarz sharing.
Talks
Serverless Framework's Multi-Provider Support - James Thomas
First up we had James Thomas from IBM giving us a view of multi-cloud future using the Serverless Framework. He demonstrated deploying a function to AWS Lambda, then deploying the same function to IBM OpenWhisk. James also gave a great overview of differences between the 4 large Function as a Service Platforms (AWS, IBM, Microsoft & Google).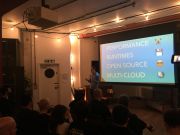 Lambda Deploys with Apex - Dave Blooman
Following James was David Blooman from FundApps, a financial compliance startup, talking about how they use the Apex framework in production. He went through their CI/CD pipeline. Of particular interest is how they manage secrets within AWS Lambda using Environment variables and Consul from Hashicorp.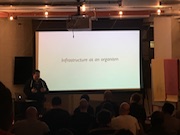 Serverless for the Enterprise - Rafal Gancarz
Last up in the evening was Rafal Gancarz from OpenCredo. For those of you looking to adopt serverless at scale, across multiple teams and multiple apps, this talk is essential viewing. Rafal went through the challenges of serverless at scale, and some solutions on how to structure your projects, and pipelines to build serverless services.